Greetings, Earthlings! We've had a difficult journey, but we've finally made it to Australia. However, allow me to present my team and myself. I'm Australian, and I searched far and wide for the ideal location for the three of us to carry out our tasks.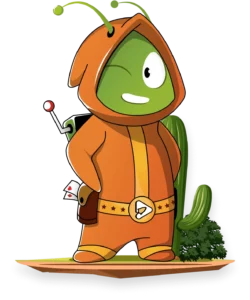 I almost forgot about my friends, look at me! Zuzu is our "tech guy," as you would say in human terms, and the adorable purple creature is called Space Cat. I think Space Cat will be your favorite, and I'll explain why shortly. However, let me first inform you about our mission. We explored the entire Galaxy in quest of the ideal location to carry on the custom from my homeworld. I assume you already have a lot of knowledge about my house. The largest casino is known to man? Oh, forget it. My home planet is well-recognized for its friendliness, good food, and casinos! We're hoping that people from Earth will join us as we spread the word about our brand-new online casino.
We knew we had chosen the ideal location for our new house as soon as we landed in Australia. You'll get a taste of how things operate on my homeworld in our new casino. You can try your hand at playing a plethora of various games. Naturally, Zuzu looked after security and made sure everything functioned properly. You may now be certain that all of your data is protected.
Of course, one of Space Cat's most significant responsibilities on our team is handling promotions and bonuses. However, I must admonish you that because Space Cat is known for being generous and because there are so many extras available, it could be challenging to attempt all the games and even to determine which one is the best because they are all so fantastic.
There will be a wide variety of games available as well. We have something for everyone, whether you prefer pokies, table games, or something different. My favorite games have always been the pokies, which is one of the main reasons we made the long trip to Australia. You can play whatever you want, though. You'll certainly find a game that you love and like playing because we have so many to choose from.
You can have fun and even win real money at our brand-new Australian online casino. Yes, you heard correctly. Our online casino games give you the possibility to receive incredible benefits.
Did I also mention that Zuzu was able to set up our casino on those tiny phone devices that you people use? No matter what kind of gadget you have, you can play any of our fantastic games anywhere. Naturally, whether you use the robot- or fruit-shaped pocket device, you will have access to all the advantages of our casino.
There is nothing simpler than joining to start having fun with Space Cat, Zuzu, and me. Simply register for an account, choose one of the Space Cat's opulent gifts, and choose the game you want to play. If you ever need us, just let us know. Of course, don't forget to enjoy yourself as well!
The best rewards system our Galaxy deserves is introduced by Aussie! Every day, get your free spins, deposit bonuses, and free games! Offers are accessible on the Bonuses and Cashier pages.
Club VIP
Join the club to receive first-rate customer service and other wonderful benefits! Get a personal VIP host, take advantage of your custom bonus offers and cashback, and much more.
Devices You can use your desktop computer, smartphone, or any other device you wish to play Aussie Play. Check out the download alternatives listed below.